An African proverb has it that one broomstick no the sweep room. The proverb depicts the power of Unit and partnership. We the RJC believe in the power of Unity in purpose and partnership, so we are always open to the same.
Last weekend (Saturday) was no different as we collaborated and worked with like minds in the Jungle ministry on Jesus to the streets movement outreach where we commune with brothers and co-laborers and share the gospel with fellow brothers and sisters in a jungle in Jenta Mangoro community.
We ministered one of our song 'High' which depicts the life of a young boy who went astray in search of worldly possessions and pleasures, and went further to encourage that the best form of feeling good vibes and being high is to try the pill of the Spirit.
In the same vein on Sunday being the 22nd of October, we observed our monthly worship experience tagged RWE and on this edition we hit the streets of Jenta, in conjunction with other kids and teenagers forum that is located in Jenta community (Heavenly Kids, Teens forum and RJC). It was a blissful experience and a memorable encounter in the presence of the most high, as it led to multiplication of disciples in Jenta and we hope this marks as the beginning of transformation and healing of all social vices that has engulfed the community.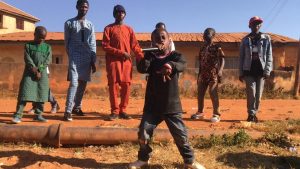 Rep Jesus community (RJC)
More than ever before the world adolescent's population is above 1.3 billion (with over 90% living in developing countries) which is over 16% of the world's population. Popularized by high enthusiasm, inquisitiveness and sense of self reliance. RJC seeks to engage them with the gospel of Christ using various creative and entertainment based activities as a bait to get them discipled to become disciple makers among their peers and further serve as transformation agents in their communities. Beyond individual and community transformation, RJC is intentional in equipping emerging leaders and creating a network of kingdom minded soldiers for the global harvest.
Disciple making movement (DMM)
Applying the DMM principles, RJC decentralized it's Bible study and engage the Discovery Bible study (DBS) in small groups and multiply these small groups from 6 to over 35 within homes, streets, schools, skill acquisition centers and churches across the city. Through DMM ordinary children have become active disciple makers by starting, sustaining and multiplying small DBS groups with little or no supervision and most importantly growing in transformation and obedience.
Prayers
Through our prayer movements children have sustained kingdom prayers through individual and corporate prayers and monthly prayer walks within 5 communities where we are currently engaging. Persons of peace, gate keepers and testimonies of life and community transformation have erupted from this prayer movements
CREATIVE ART AND MUSIC
through music concerts and outreaches over 18 DBS groups and over 80 disciples have been raised among children, teenagers and young adults across the state. These activities have develop and increase self confidence, activate and sharpen various gifts and talents among them and at the same time create platforms for self expression and nurturing of those gifts.
DISCIPLESHIP TRAININGS AND LEADERSHIP DEVELOPMENT
We train and mobilize churches to maximize opportunities in the urban and rural spaces to make disciples in their homes, work spaces. We train constantly to empower our emerging leaders and leaders who are taking initiative to bear more fruit so that they can become trainers. We also host and facilitate children and youth camps to bring emerging leaders together to network resources and be equipped for Gods global purpose